This recipe is not only the easiest pizza base recipe that you'll ever make, it's also a speedy alternative to the classic pizza dough recipe. The best part about homemade pizza? It's fresh, tastier, healthier than store bought and besides the crunchy crust that we all wait with anticipation for while it bakes, it's the perfect family meal with everyone participating.
Here I am also sharing all the toppings we tried as inspiration but naturally, everyone has their own favorite toppings. I do have an easy pizza sauce that's incredibly easy and tasty but you can use homemade or store-bought.
We love pizza as much as the next family and trying different techniques is not new to me because I love changing things up. Just like when I made this beet veggie pizza a few years ago and it's still one of my favorite ways to incorporate fresh seasonal vegetables.
The best part about making any pizza is the topping! It's a great family time gathering especially for younger ones where they get to experiment with taste and color as they choose their toppings. Even as a family of adults it's still interesting to see the topping choices!
After sharing my homegrown tomatoes on my Instgram story, the response was very much appreciated and sharing this recipe is my way of saying thank you🍅
What You Need To Make The Easiest Pizza
Nothing you can't pronounce, trust me. These ingredients are in your cupboards so pull out your food processor and let's start making this quick and easy pizza recipe!
No food processor? You can still make it in a bowl using a fork or spoon.
If you have a board or a clean work surface you can make this recipe. You can even make it on a stone like they still do in some cultures, it's that easy!
Ingredients
It's a good idea to prepare all your ingredients before starting. Preheating the oven included.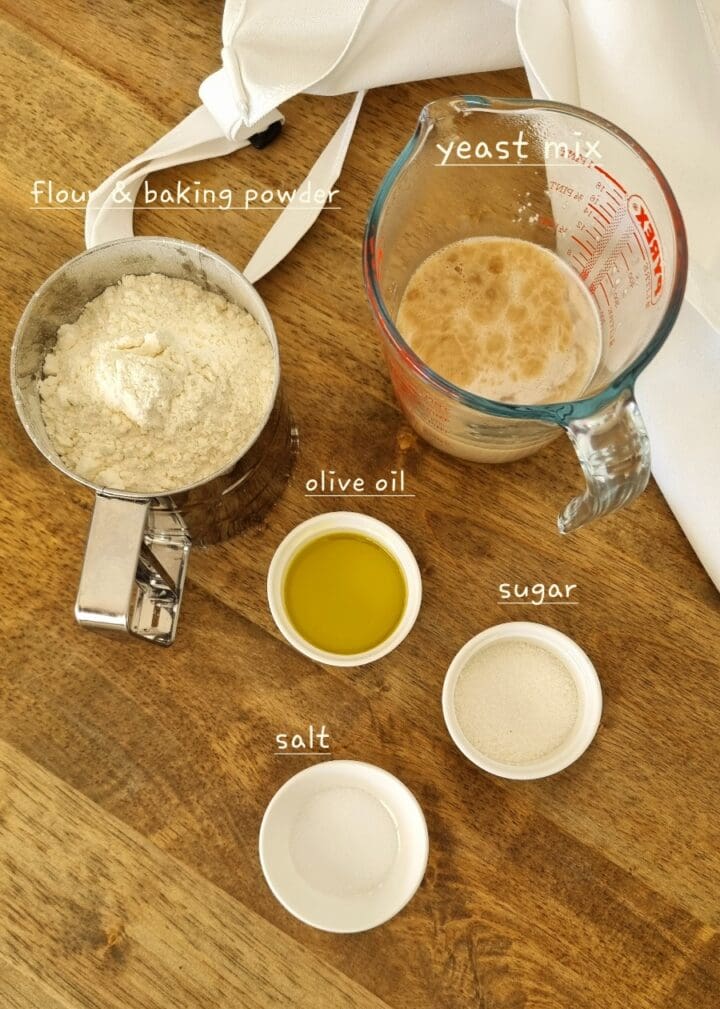 Flour: Unbleached cake flour was used in this recipe. I use pizza flour, bread flour and cake flour. They all work and they work well. Pizza and bread are stronger giving you a crunchier crust and tighter crumb, very good. You can even use half and half of bread and cake flour.
Yeast: Active dry yeast (yeast powder). It comes in little sachets and is convenient.
Salt: For balance because salt free pizza may not be so appetizing.
Sugar: Helps feed the yeast and create a rise. Honey also works well so either.
Oil: Adds to a soft texture and crunchy rich brown crust.
Water: Warm temperature. I've always said I really don't have time to stick a thermometer in water, sigh, just remember that if you dip your knuckle in the water and it's too hot then it will kill the yeast. You should be able to touch it, warm and lovely. Warm water also helps the dough rise.
Instructions
Yeast Mix: Pour warm water into a jug or bowl and add the yeast and sugar. Stir and and set aside for 5 minutes to proof.
Flour: Add the flour into a sieve and sift into a bowl or directly into the bowl of a food processor. You don't have to sift the flour but I would suggest it for a more airy, lighter crust.
Add the salt: Use a fine sea salt as opposed to coarse salt.
Combine: Once the yeast has formed a frothy surface, you're good to go. Pour it into the dry ingredients.
Olive oil: Pour in the olive oil for richness and a supple pizza texture.
Process: Press the pulse button of the food processor a couple times until the dough comes together. This takes less than a minute!
Shape the pizza: Transfer the dough onto a floured work station and using your hands pull it together. Flour your hands if necessary but dont add unnecessary flour to the dough. It will be soft and fluffly, all you need is a little dough to form a ball and cut into two parts.
Shaping the pizza: There are a few ways to shape your pizza dough and there's no right or wrong way. It all depends on what tray/pan you are using and if your family prefers a thick or thin pizza base.
You can use a rolling pin to flatten the dough and shape a circle to fit your pizza tray. You can also press into any pan that you want to use.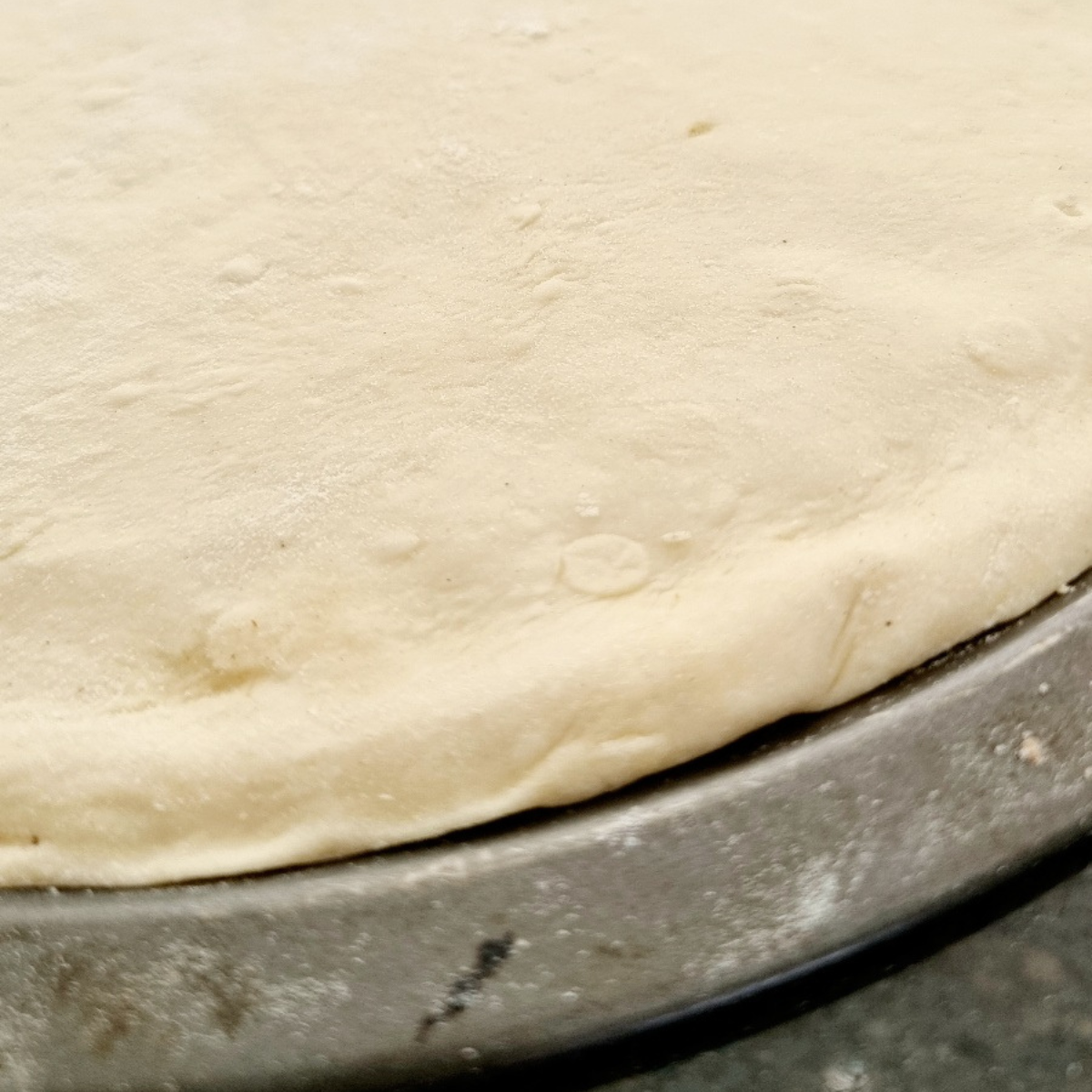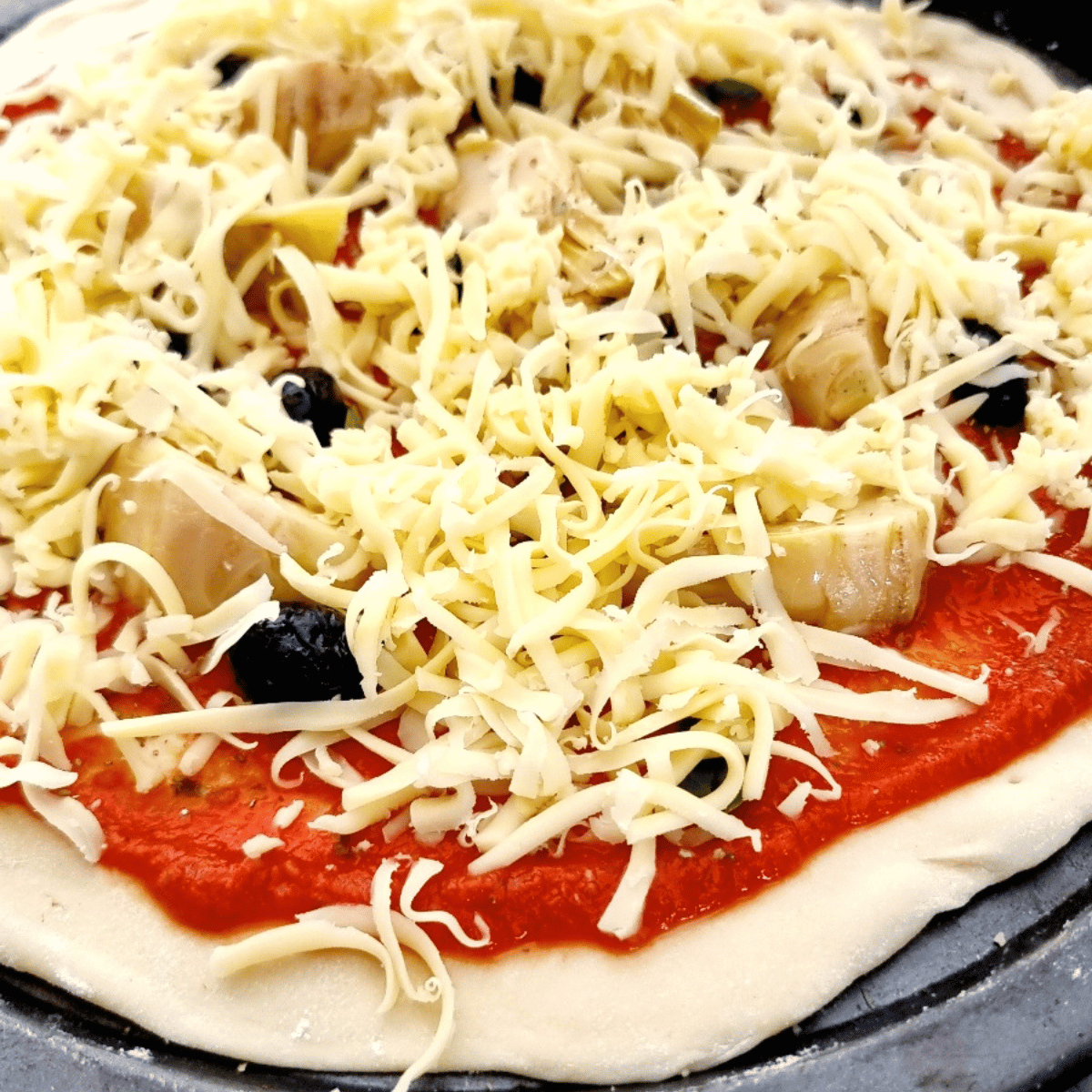 This recipe for the easiest pizza dough makes 2 thin base pizzas or one thicker base pizza.
Topping Suggestions
This easy to follow step by step pizza recipe can be served sliced as part of an appetizer, as a main meal with a side salad. One pizza base and a 100 different toppings!
More Italian Recipes
FAQ's
My dough is too wet
Add a little flour. Make sure to add flour to the work surface and work it into the dough. The dough will be more wet than dry, however, the flour sprinkled on the work surface is just enough to help get the dough a little less wet.
Should I roll the dough out or shape it using my hands?
Either, you can roll the dough out or pull and drop the dough as they do in Sicily! Not the easiest, but either way, shape your dough to bake.
Is this a basic pizza dough recipe?
Yes, my pizza dough recipe is very basic and uses flour, salt, yeast, sugar, water and oil.
What's the best type of flour to use for pizza?
Typically, cake flour and it works absolutely fine. Preferably, bread flour and pizza flour for pizza because they make a wonderful crunchy crust but it's not a train smash, use cake flour if that's all you have. Sometimes I combine half and half cake flour and bread flour.
Can I freeze pizza dough?
Its always best fresh that's first. Second, yes you can, make sure its well oiled and fits into a ziploc bag, get all the air out. Transfer to the fridge the night before and then leave on the countertop to thaw the day of using.
Never Miss A Recipe
Join my free email list HERE to receive new recipes and a set of three delicious recipe ebooks!
Shop our online store for quality all natural spices.
More Pizza Recipes
Before you go, enjoy the recipe, eat well, share food and love and please if you make my pizza recipe, do leave me a rating below! If you are feeling generous then a comment too, it's all appreciated!
Recipe
Easiest Pizza Base Recipe You'll Ever Make!
This is the easiest pizza base that you'll ever make with the same classic crunchy crust that you would expect from pizza. The only difference is, it takes less than 30 minutes to make, including baking time. The actual prep takes just 10 minutes. The best part about homemade pizza? It's fresh, tastier, healthier than store bought and besides the crunchy crust that we all wait with anticipation for while it bakes, it's the perfect family meal with everyone participating.
Equipment
Food processor or mixing bowl

Spatula or wooden spoon

Rolling Pin

Pizza tray

oven gloves
Ingredients
1

Cup

Warm water

½ to 1

teaspoon

Sugar

2

Cups

Flour

7

grams

Dry yeast

1

teaspoon

Salt

2

Tbsps

Olive oil
Instructions
Preheat the oven to 230 C.

Add the water, sugar and yeast into a bowl or jug and set aside for 5 minutes to proof.

1 Cup Warm water,

½ to 1 teaspoon Sugar

Sift the flour and baking powder into a mixing bowl or directly into the cup of a food processor and add salt.

2 Cups Flour,

7 grams Dry yeast,

1 teaspoon Salt

Into the proofed yeast, add the oil and pour the wet ingredients into the dry ingredients. Mix into a soft dough.

Transfer the dough onto a floured surface. Cut into two parts and shape 2 balls of dough for 2 pizzas. Cover one dough ball to prevent the dough from drying out as you work with the one part.

Using a rolling pin or your hands shape the pizza to fit into a pizza tray. Use a fork to poke a few holes into the dough and add pizza sauce leaving about 2cmaround the edges

Top with your favorite toppings, oregano and a light drizzle of olive oil on the crust to help brown and flavor the crust.
Notes
Don't forget to check out my FAQ's inside the post.
How many pizza's does this recipe make? 
Two thin based pizza's or one larger thicker based pizza. 
Can I refrigerate after making? 
Yes, preferably without the toppings to avoid it going soggy. On that note, over loaded pizza's may look good but are not suggested since they will be difficult to transfer from work station to the oven. You should also consider the center possibly caving.  After all, you want to taste the toppings and taste the feature of a pizza which is the crunchy crust. The toppings should never outshine the crust, in any authentic pizza. 
Can I freeze my pizza with the toppings on?
Pizza with toppings on really should be eaten fresh however, in an effort to avoid waste, you can freeze your pizza but make sure its properly wrapped or sealed to avoid any freeze getting inside. The quality of the taste and texture diminishes the longer its frozen. 
Can I freeze the pizza dough?
Absolutely yes! The dough freezes for at least 3 months. Once your is made with all the ingredients in, shape, place into a large bowl (so it has to room to grow. I use a large plastic bowl for this), oil it all round, cover and leave in the fridge overnight. Next day, you can still continue with the rest of the recipe if you want to bake it. For freezing, divide into two parts (for 2 pizzas) and individually wrap each piece in a ziploc bag with all the air out. 
How to thaw frozen pizza?
Transfer from the freezer to the fridge overnight to thaw. The you will use the dough, let it sit at room temperature for about an hour before using. 
Can I use less yeast? 
Yes! The 7grams sachets are very convenient are what I use for all my bread recipes bread recipes however I've made this pizza in batches for entertaining and in each bowl of flour goes 1 teaspoon of yeast. That's the thing about this recipe, it's really, really forgiving! There are no 'mistakes'.